TICS NetBeans Plugin Setup
Under Windows, the easiest way to install the TICS Plugin is to use the TICS installer.
Close NetBeans, run the TICS installer and select Single Server or Multi Server->TICS client
When getting to the TICS Add-ins dialog, select NetBeans.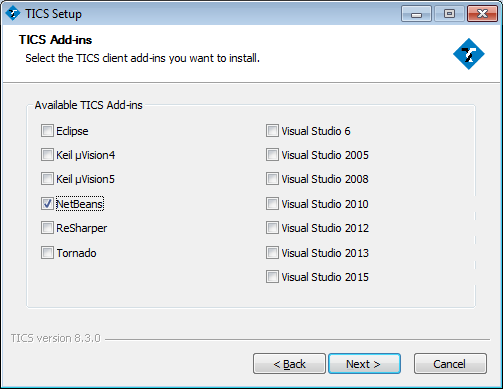 Complete the installation.
TICS NetBeans Plugin Manual Installation
Add the TICS Plugin to NetBeans without installer.
You need to have this file ready:
Follow the steps to add this plugin to your NetBeans environment.
In NetBeans IDE, select Tools->Plugins.

Select the Downloaded tab and press Add Plugins.... Then select the com-tiobe-ticsbean.nbm file.

Select Open.

Follow the dialogs until installed.

When finished, the TICS icons will be visible in the toolbar.